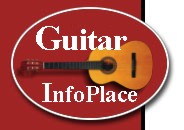 Need a Shopping Cart and BUY NOW buttons to let you sell downloads and tangible goods on your website or eBay?
Only $5/month !
Can You beat this price ?!



CLICK HERE FOR MORE

You can sell ebooks, sell mp3 tracks and albums, sell software, icons, fonts, artwork, phone cards, event tickets, cds, posters, books, t-shirts and almost everything else you want to sell.

Interesting Links
(* Disclaimer: We have no editorial influence on the content of the above linked pages and therefore we are not responsible for legality of their content.)

Classical Guitar
Full of information for the player, the teacher, the student and the listener. Features interviews; international news; coverage of worldwide guitar events; reviews; guitar history and more.

Acoustic Guitar Magazine - is written for beginners and professionals alike. Workshops, sheet music, reviews and expert advice.
Home | Sheet Music | CD Selection | Guitars | Accessories | Software | YouTube's Best | Misc Links


Navigation by WebRing.


Copyright ©2003-2013 GuitarInfoPlace.com. All rights reserved.