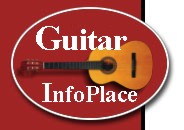 Need a Shopping Cart and BUY NOW buttons to let you sell downloads and tangible goods on your website or eBay?
Only $5/month !
Can You beat this price ?!



CLICK HERE FOR MORE

You can sell ebooks, sell mp3 tracks and albums, sell software, icons, fonts, artwork, phone cards, event tickets, cds, posters, books, t-shirts and almost everything else you want to sell.

Learn To Play Virtually Anything You Hear
... get this unique and revolutionary jazz guitar method, by far the most innovative and effective ear training program for guitarists, that is guaranteed to show you super fast results. A complete home study course for the improvising jazz guitarist by Chris Standring, accomplished guitar player, composer and educator.
Click For More
Highly recommended!
---
Unfortunately, the best performances by professional stars are often posted on YouTube without consideration of their publishers' copyrights - and as such they are at risk to be removed without notice by administrators of YouTube. (Therefore, leading to these videos you'll find here only clickable links and they may be just temporary)
"qwerty9321" ..Brazil
Helio Delmiro - Chama


"troubleclef" Tony...USA
Sergio Ricardo - Zelão (arr. Paulinho Nogueira)


"guitarrazurda" Ag. Pereyra Lucena..Argentina
Antonio Carlos Jobim - Garota de Ipanema


Angelo Franzi "chitarprof"...Italy
Toquinho - Chorando pra Pixinguinha


"overlord74" Jacopo...Italy
Antonio Carlos Jobim - Luiza

"denianarcoleo" Denian Arcoleo...UK
Garoto-Tristezas de um Violão


"yoshiroliterario" Yoshiro Nakamura...Japan
Antonio Carlos Jobim - Falando de amor


"gilmeda" Gilbert Medam...(France), Thailand
Ary Barroso - Aquarela do Brasil


"acemucky" Ju'...France
Baden Powell - Samba Triste


"frankdoviolao" Frank do Violão...Germany
Frank do Violão - Chorinho Nr.3

Home | Sheet Music | CD Selection | Guitars | Accessories | Software | YouTube's Best | Misc Links

Copyright ©2003-2012 GuitarInfoPlace.com. All rights reserved.